Have you gone Gold yet? East Coast Gold is a digital radio station launched by the team at East Coast Radio. It's all about classic hit music with sprinklings of up-to-date news, weather and traffic. East Coast Gold hits the sweet spot between growing technology trends and human touch. In East Coast Gold we have the traditional strengths of radio locked in through personality-driven, free-form broadcasts that cater to the niche listener. The internet radio station is available on the ECR App or website, on the Alexa smart speaker or various streaming sites, including Sound Garden and My Tuner.
Launched on 4 November 2019, East Coast Gold is jam-packed with Classic Hits from the 60s, 70s and 80s. The purpose of the station is to innovate a special music radio product that caters to exclusively to the 50+ listener's tastes through a combination of music and content. East Coast Gold: Internet radio curated by field experts and featuring trusted personalities.
Alex Jay is the standard of what a South African legend is, having spent 37 years on radio and still going strong! Alex currently hosts the lunchtime show on Jacaranda FM, which he continues to do in addition to playing Classic Hits of the 60s, 70s and 80s on the weekend, Saturdays and Sundays from 10am to 2pm.
The legendary Dave Guselli started off his South African radio career in 1981 at independent radio station Capital Radio 604. He was a firm favourite on East Coast Radio for 22 years and he now hosts the 5pm to 9pm weekday show on East Coast Gold, as well as the Saturday morning 6-10am show.
Jane Linley Thomas has been on air on East Coast Radio since 2004 and has built up a reputation as great storyteller and someone who's passionate about sharing her philosophy on kindness. She currently hosts Weekend Breakfast on ECR, as well as the weekday 10am to 1pm show on East Coast Gold and Saturdays from 2-6pm.
Damon Beard is an institution on radio in KZN and was with East Coast Radio for 28 years before moving to the UK in November 2019. Damon hosts the weekday 1 to 5pm show on East Coast Gold and the 6-10am show on Sundays.
Gordon Graham has the golden voice and his cool and calm style has made him a favourite in many South African markets since 1994 including Joburg and the Eastern Cape, where he was on air for 20 years with Algoa FM before relocating to Durban. Gordon hosts Gordon Graham's More Music Breakfast Show from 6am to 10am on East Coast Gold, plus the 2-6pm slot on Sundays. Gordon's weekday show won Best Internet Radio Show, Radio Awards 2020.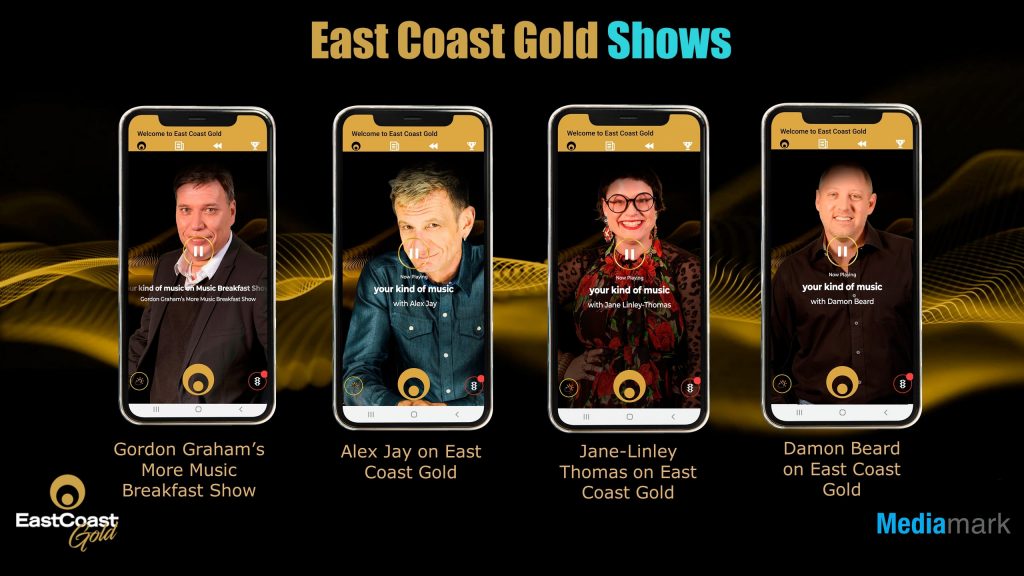 Catch up with Social Media