Innovation, community, and engagement is at the heart of this award winning, multichannel media giant.
Jacaranda FM provides an array of the best talent in the business, easy-listening music, radio programming, social media engagement, concerts, online shopping, as well as sporting and social events. Sustainable community initiatives form part of Jacaranda FM's DNA with Good Morning Angels helping people and communities in need for the past 16 years.
The station engages with over 4 million people across their platforms monthly and provides market access for thousands of businesses seeking to engage a loyal, engaged and highly economically active SA community.
Jacaranda FM provides advertisers with powerful integrated advertising solutions and access to a massive audience across Gauteng, Limpopo, Mpumalanga, and Northwest Province. Its ecosystem offers opportunities on a national scale via web, streaming, on demand and other digital audio offerings.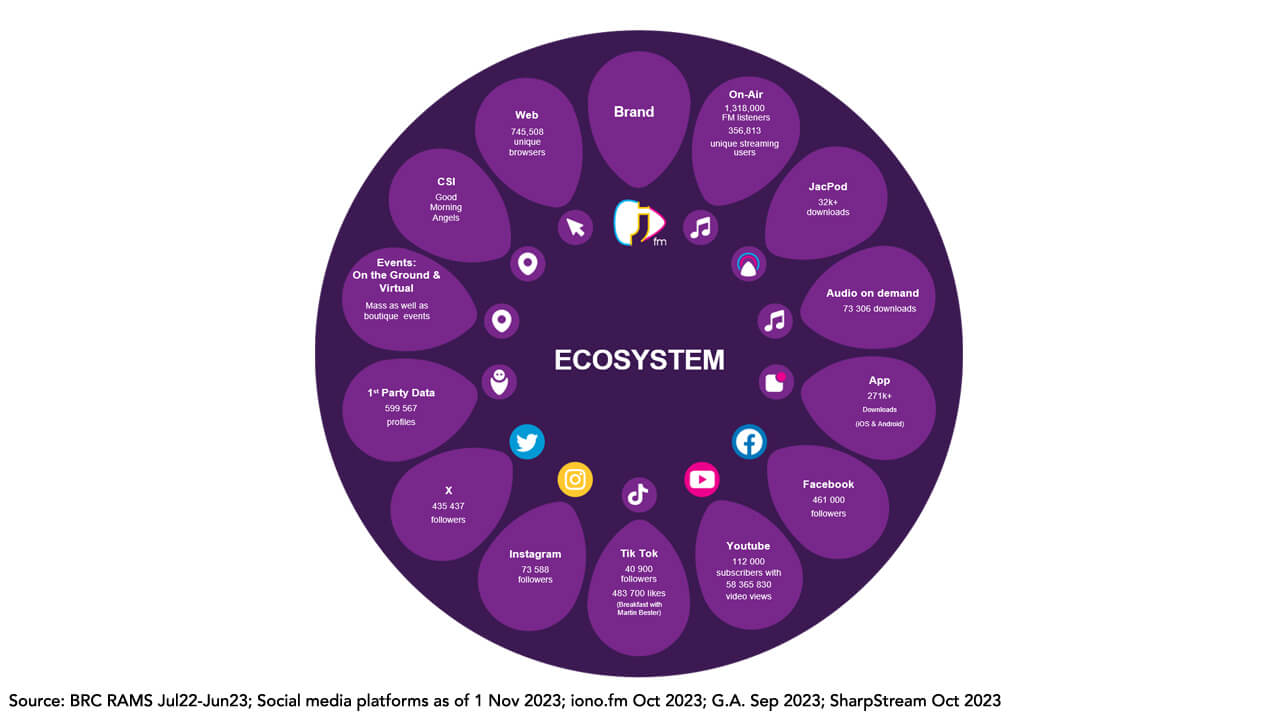 Source: BRC RAMS Feb22-Jan23; Social media platforms as at 1 April 2023; iono.fm March 2023; Narratiive August 2022; SharpStream March 2023
Good Morning Angels (Weekdays: 06h00 – 09h00)
Jacaranda FM Good Morning Angels – Mobilising our audience through radio to offer help where it is needed most
On air since 2004, Jacaranda FM's Good Morning Angels (GMA) showcases the power of the human spirit, community, kindness, and the power of radio as a media platform. Annually, Jacaranda FM also broadcasts a special GMA Festive Edition, with one GMA project per day just before Christmas.
Honouring Jacaranda FM's commitment to actively building a better society, GMA identifies people and organisations in need through requests sent to angels@jacarandafm.com, and rallies the help of everyday angels (individuals, companies, celebrities and more) to provide help where it is needed most.
GMA provides an opportunity to collaborate on issues of national significance, and to drive positive changes with direct contributions from our audiences. Whether it's a family in need after tragedy, a deserving young talent in need of a helping hand, a life-saving operation, or anything in between, Jacaranda FM's Good Morning Angels, with the help of what Martin Bester refers to as "the most generous listener base in South Africa", will be there to help.
Catch Jacaranda FM Good Morning Angels on Breakfast with Martin Bester, every Wednesday morning between 7 and 8am.
Catch up with Social Media