Smile 90.4FM is a bilingual (English & Afrikaans), adult contemporary radio station, broadcasting to the Cape Town metropolitan Area. The brand ensures companionship, comfort and delight; and provide moments of escapism through their daily on-air offerings. Smile 90.4 FM delivers on its music positioning of Better Music & More of It by playing familiar, bright,and sing-a-long hits from the eighties to now. Cape Town wakes up to the station's flagship show, Smile Breakfast with Bobby & Lindy, with its signature competition, Smile Secret Sound, plus engaging conversations, relevant information and the latest traffic news every 15 minutes.
The dynamic news environment is constantly evolving. With so many news platforms available, it has become difficult to distinguish real from fake, relevant from irrelevant and sensational from factual. To help listeners navigate an overwhelming news landscape, the station recently launched News that Cape Town Needs to Know Now which aims to provide factual and relevant information on breaking news as well as developing stories.
Promotions and competitions on Smile 90.4FM are driven by innovation and creativity – like the award-winning R2 Million Campaign (SA Radio Award Winner 2020 ~ Multi-channel Promotion category), Live Inside & Win the Ride; and various 'Smile-In-Action' initiatives, which play an important role in assisting and helping the audience through community-based projects.
Smile 90.4FM Listeners
• They are loyal and engaging with 65% listening exclusively to Smile 90.4FM
• Our listeners, on average, listen for 1h49min per day
• 39% engage with us on Facebook
• 84% of our listeners are in the SEM 8–10 category;
• 78% in the LSM 9–10 category
• 39% English, 58% Afrikaans
• 72% age 35+ years
• 189 000 listeners
~ Source BRC RAMS Jan – Mar 2020
1 Million Face Masks for Cape Town
Smile 90.4FM and Brimstone Investment Corporation have partnered, with the aim of distributing ONE MILLION FACEMASKS to organisations and groups in and around Cape Town. The use of facemasks to curb the spread of COVID-19 is absolutely vital- but while the perception is that "surely by now everyone has a mask", nothing can be further from the truth. There are many essential workers, school children, homeless individuals and visitors to hospitals and care facilities who are in need of masks, for their own safety and for those around them.
To date a total of +-250 000 masks have been collected and are in the process of being distributed. The distribution of the masks will continue of the course of the next few weeks.
Members of the public are invited to nominate organisations who need masks by visiting https://smile904.fm/, and can also make a donation towards the ONE MILLION MASKS by being physical mask or a cash donation.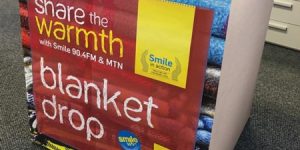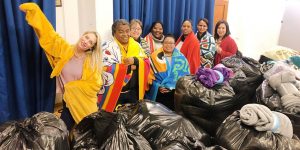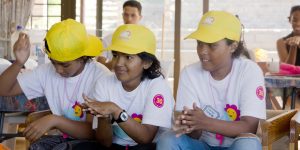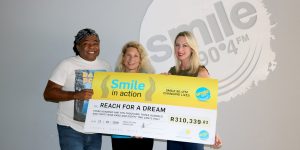 SMILE-IN-ACTION: Share the warmth with MTN
As winter continued to affect the lives of those without adequate shelter or heating, Smile 90.4FM, partnered with MTN to bring comfort and warmth to Capetonians who needed it most by providing them with blankets. Smile 90.4 FM and MTN went on a mission to collect 10,000 blankets to distribute to the underprivileged, retirement homes, orphanages, and homeless persons. Smile 90.4 FM and MTN collectively urged all Capetonians to open their hearts and Share the Warmth by dropping off blankets at either the Smile 90.4 FM Studios or any of the 38 MTN stores across the Cape Town Metropolis, and surrounding areas. People wanting to purchase a blanket could click on the 'Share the Warmth banner' on www.smile904.fm to make the purchase. The Share the Warmth campaign aimed to make a tangible difference by changing someone's life and put a smile on everyone's face. With our listeners' help, we did!
SMILE-IN-ACTION – Reach for a Dream
The first Smile-in-Action campaign focused on Reach for a Dream, a foundation that has brought hope, joy and healing to South African children and their families by offering the child a magical moment to regain their childhood that is being lost to an illness. Smile-in-Action aimed to raise R250 000 in support of Reach for a Dream's 2019 Camp Sunshine. These funds would enable 95 children to attend the camp and Family Focus Camps. Smile-in-Action and the Reach for a Dream Foundation campaign surpassed its R250 000 target, raising R310 339,82 in less than a week after the campaign was launched! Each listener opened up their hearts and wallets in order to make a difference in over 100 children's lives.
Catch up with Social Media