Jacaranda FM mobilises loyal communities with highly experiential virtual and on the ground events and activations, offering you a myriad of opportunities to engage and co-create your custom engagement.
Conversations continue via Jacaranda FM digital and social media platforms, exposing over 2 million users per month to your messages. You also have access to our audience via our audio-streaming and audio-on-demand platforms, e-commerce opportunities via the Jacaranda FM Mall, and JacPod podcasts for more intimate conversation.
Jacaranda FM supports sustainable responsibility initiatives, focused particularly on education and building a better society.
Good Morning Angels (Weekdays: 06h00 – 09h00)
Jacaranda FM Good Morning Angels – Mobilising our audience through radio to offer help where it is needed most
On air since 2004, Jacaranda FM's Good Morning Angels (GMA) showcases the power of the human spirit, community, kindness, and the power of radio as a media platform. Annually, Jacaranda FM also broadcasts a special GMA Festive Edition, with one GMA project per day just before Christmas.
Honouring Jacaranda FM's commitment to actively building a better society, GMA identifies people and organisations in need through requests sent to [email protected], and rallies the help of everyday angels (individuals, companies, celebrities and more) to provide help where it is needed most.
GMA provides an opportunity to collaborate on issues of national significance, and to drive positive changes with direct contributions from our audiences. Whether it's a family in need after tragedy, a deserving young talent in need of a helping hand, a life-saving operation, or anything in between, Jacaranda FM's Good Morning Angels, with the help of what Martin Bester refers to as "the most generous listener base in South Africa", will be there to help.
In 2019 alone, GMA raised more than R13 million, assisting 60 different communities and their causes. Highlights include a Mandela Day drive where R1.8 million was raised during a single morning broadcast (culminating in a total of R2.7 million) to save 67 children with heart defects. In recognition of these efforts, GMA received three of the five nominations for the 2020 SA Radio awards in the Commercial Stations: Community Project category.
Catch Jacaranda FM Good Morning Angels on Breakfast with Martin Bester, every Wednesday morning between 7 and 8am.
#GMAMandelaDayInitiative
DJ Jazzy D partnered with Jacaranda FM's Good Morning Angels in a bid to achieve his overall goal of providing people in need with a proper, hearty meal on Mandela Day.
#GMAMandelaDay called on all listeners and clients from all over SA – and further afield, to make donations towards this initiative and with that being said DJ Jazzy D managed to feed 67 000 families.
As we are all aware that "COVID-19 has put additional strain on people who are already struggling to cover even the bare essentials.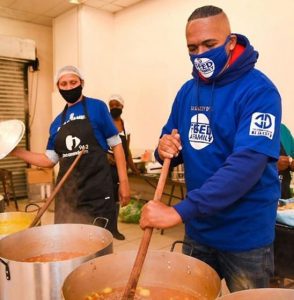 Catch up with Social Media